KT held Cultural Event for Children 'A Day with Culture'
Held at the Olleh Square of Gwanghwamun Building on 27
('Soodam' participates in the event as an enterprise booth.)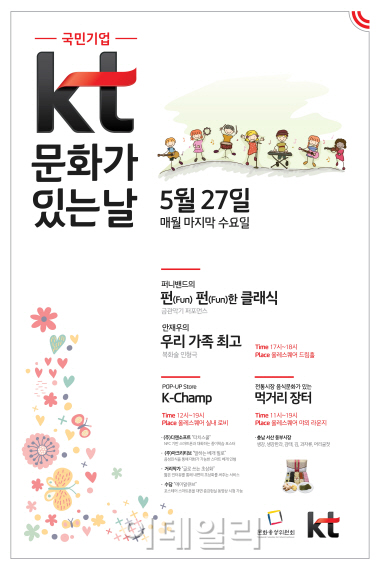 [E-Daily, Reporter KIM Yu-Seong] KT said that they would hold various cultural events for children taking A Month of Family at the West Olleh Square of KT Gwanghwamun building on Wednesday on 27th.
It is the event held by KT on every last Wednesday for the people who visit Gwanghwamun as one of 'A Day with Culture' campaigns that is implemented by Ministry of Culture, Sports and Tourism and Presidential Committee for Cultural Enrichment.
KT stages a classical performance of 'Fun Fun Classic' of 'Funny Band' which is a performance group with the brass and 'Our Family is the Best' which is a ventriloquized puppet show by AHN Jae-woo's ventriloquism research institute at the Dream Hall of the Olleh Square at 5 o'clock in the evening.

Also merchants at Dongbu market at Seosan in Chungnam from noon to 7 o'clock at night at the outdoor lounge of the Olleh Square sell special regional products such as gingers, Kajime, salted oysters with hot pepper etc. that they directly brought from the producing area. They will offer an opportunity to those who visit the place so that the visitors can experience food culture of the regional traditional market at Seosan in Chungnam Province.

KT will show booths of start-up enterprises that provide services related to learning for children to people at the indoor lobby of the Olleh Square.
KT has offered opportunities that new services could be promoted by opening 'K-Champ Pop-up Store' after selecting excellent small and medium-sized businesses and start-ups with Korea Creative Content Agency every month.